Run into the heart and the mind of a cross country athlete! We were very elated to welcome and interview Chase Davis to help enter the mind of a cross country athlete and understand what cross country really is like. 
 Running cross country in a hot and humid July month. Well,  that may sound terrible, but Chase Davis loves it. Why does cross country start in July? Chase gave us some helpful insight. This sport has multiple months of practice. In this hot month, the runners need to practice in this type of weather so they can be in better shape for the season. They will get all sweaty now, but that shows their coach that they put in the time and hard work. The hot weather isn't the only problem the runners have; they also have to wake up at 6:00 a.m. Why run at 6:00 a.m.; why not 3:00 p.m? Well, that's a bit too hot! Running in the hot and stuffy weather though gets them tired, but that's what they have to do to get ready for the season.
 There are many other ways to prepare for cross country. One way is the actual way they run. They practice certain motions with their arms which go in an up and down movement instead of side to side. They also control their breathing so they can get farther. Now you might be asking, "How does that get you in shape?" Well, according to Chase, when you run you need to control your breathing. It gets their lungs healthy and strong. It also helps with their endurance. Now they don't just do these exercises at practice, but they also do them in their free time by running in their neighborhood, parks, or a nearby track.  
Chase Davis,who is a veteran of the cross country team, has been on for two years. The 2023 cross country team consisted of five boys and four girls—they were all representing Niles Middle School. The team is coached by Mrs. Alicia Sgambatti. She is also a teacher at Niles Intermediate School. It must take a lot of her energy to come and coach middle school after being with all younger students everyday, but she must really love the team and her job.  And that equates to everyone loving coach Sgambatti. 
"
"Mrs. Sgambatti helped me a lot; she gave me faith to believe in myself; I really loved her as my coach."
— Chase Davis
  If you want to be on the cross country team, you'd better have a passion for running because you'll be doing a lot of long distance running every season. The farthest distance you'll run in middle school is two miles and in high school you will run three. There are about eight meets during the season and most fall on weekends so you might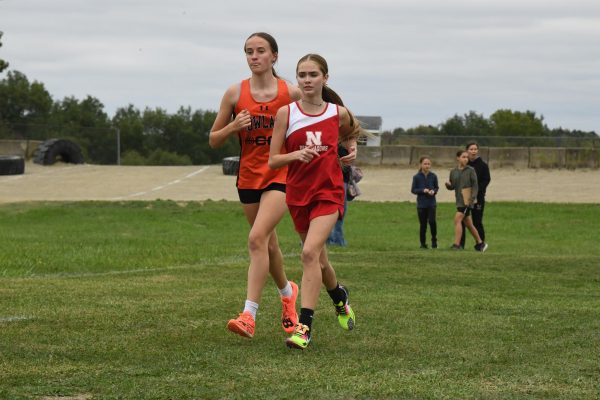 have to give up your Saturdays. Giving up your Saturdays? Well that doesn't matter when you love the sport of running. Chase backed up this thought because he loves running in cooler weather. And just think of how pretty the scenery is running outside in mid-autumn.                                       
We really enjoyed having the time to sit down with Chase Davis and getting his information about cross country. We hope you all are as passionate about Cross Country as he is.  We know you guys will do awesome next year and the years going forward! Good luck next year!