Elliot DeChristofaro: Future Olympian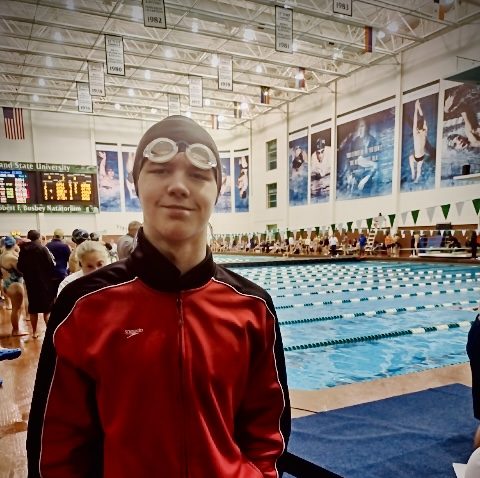 Amy DeChristofaro

Who is this young lad who not only (sort of) resembles the swimmer, Michael Phelps, but actually swims and trains like this Olympian? Well, it's Niles Middle Schools' own–Elliot DeChristofaro. Let's get to know this Aqua-man!

Elliot, who is 13 years old and in the eighth grade, is quite the student athlete. He is extremely committed, training 3-4 times a week at the pool on the campus of Youngstown State University.

Always looking to improve, Elliot uses most of his time to practice after school, and it surely is a sport that requires lots of dedication and hard work. Elliot states, "I hope to improve my skills and continue to gain strength and speed in the pool." The self improvement part of swimming keeps him going and is really why he loves the sport.

In the upcoming video you see how Elliot describes his love for swimming ever since he was younger:

Tori and Grace

Even though Michael Phelps was really good at all events in swimming: the butterfly was his ace! Elliot's "claim to fame" however is the breaststroke. Yet they do have one thing in common–the Freestyle event. However, they are both excellent at freestyle. How about this fun fact? Elliot is only about six seconds behind Phelp's time. Now listen! The pool sizes are different and Michael Phelps travels a lot farther with his strokes. But that is a heck of an accomplishment for you Elliot. Great job! Now, If you don't know anything about Michael Phelps here are some facts.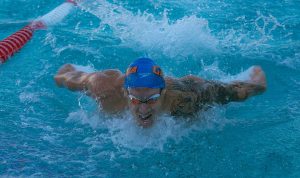 He is one of the most successful Olympic swimmers. He started to swim in the Olympics when he was only 15 years old. Michael has won a total of 23 golden metals from swimming in the Summer Olympics. He has been winning gold medals since 2004 when he was only 19 years old, and his most recent being in 2016 when he was 31 years old during his last year competing. Michael was the first athlete in the Olympics to win 8 gold medals in a single Olympic meet. His best event is in the category of Men 50 freestyle, it only took him 23.04 seconds to finish. He set that record on October 11, 2009, when he was 24. His favorite and most used stroke is the butterfly stroke. He makes the hardest and most difficult stroke in swimming look effortless. This stroke really does take a lot of hard work and strength. Michael retired from swimming in 2016 at the age of 31. Elliot, we hope with all of your accomplishments and hard training, we hope to be writing a huge paragraph about you and your achievements one day.
Like most athletes, Elliot dreams to go professional in his sport. Going to the Olympic trials is something he hopes to accomplish. "If I keep training and working hard I think I could make it," said Elliot. The professional athlete who inspired this dream is actually Caleb Dressel. Caleb Dressel is 26 years old; he is an American seven time gold medal winner. Elliot actually met Caleb Dressel at SPIRE Institute Sports Complex in Geneva. Dressel put on a training session to help younger swimmers get a faster time. Elliot states, "Dressel taught me how to dive off the block, and I still use most of the skills he taught me today." Meeting and learning from the present "world's best" is something Elliot will never forget. He says, "Even though I have the utmost respect for Michael Phelps, I feel like I can really learn from Caleb Dressel and his style of swimming and training."Elliot is content with swimming at YSU even though driving there is a long drive. However, he still would like it if Niles had a swimming program. Elliot says, " Having a swim program right around the corner would be nice, but until Niles has a swimming program, I'm happy being with YSU." Elliot thinks swimming for his home town would be a great opportunity. He thinks many great things can come from playing sports at your school; like getting a college scholarship and possibly swimming with his school friends.
Elliot has his mind set on gold! His determination and work ethic will boost him to number one. Elliot has many great things coming to him. He is very admirable for competing and excelling in such a competitive environment. He competes in a very unique sport and really has his mind set on working hard and putting in the time to get to the ultimate goal–the Olympics! Don't be surprised in a few years from now when you hear about Elliot DeChristofaro on the news with his gold medal around his neck.