Bringing Back Fall Fun
Can't think of a better way to spend a beautiful October evening than at NMS's Harvest Dinner.  For the past two years, this celebration has been shut down because of Covid. But we are back and loving every minute of it. Thanks to Ms. Keatley, Ms. Rose and the WEB leaders; they outdid themselves by bringing back a Niles tradition.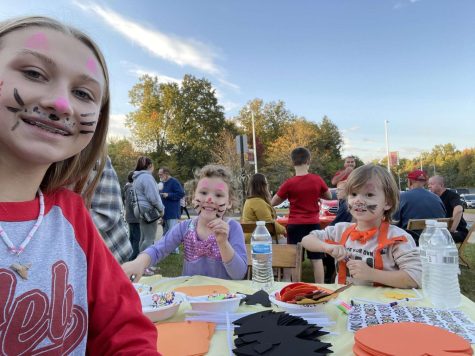 We had an awesome turnout at this year's Harvest Dinner. Well of course we did. Everyone missed it so much and their excitement showed. There were about 300 people total: friends, students, family members, children, and staff at the event, and they were enjoying many fun activities. Many children and students loved having their faces painted. In fact, painting childrens' faces was a favorite of the web leader, Karli Cox, "It was really fun helping the kids; just being there was an honor.  It was so much fun. I liked helping the kids and seeing them smile." Pumpkin painting was a blast for all! Imaginations were running wild when deciding how to decorate them. You may have noticed some of the pumpkins outside of NMS. Families enjoyed painting their pumpkins; afterwards they took them home to enjoy as a fall decoration.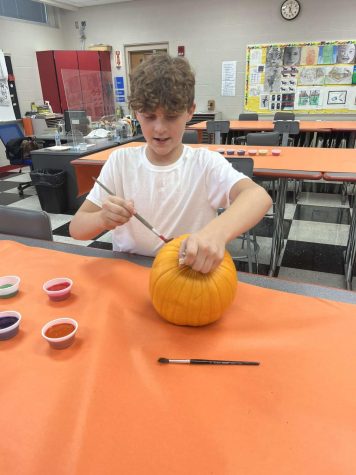 This year was NMS's Thirteenth Harvest Dinner and even though thirteen is said to be an unlucky number, there were certainly a lot of lucky winners. The festive baskets were donated by WEB leaders and some teachers here at NMS. Everyone who bought tickets waited eagerly to see if they won. Some of the baskets had candy, organizational items, skincare, and so many creative ideas.
In addition to prizes and activities, families sure did enjoy a meal and the food did not disappoint. Everyone feasted on a variety of food from pasta salad to hot dogs and wonderful smelling kettle corn . A special  thanks  to the WEB leaders who served the food; they seemed to enjoy talking to everyone and making it a wonderful night.
At the end of the evening, everyone who came to the Harvest Dinner enjoyed the festivities and had an amazing time. All left with full stomachs and their hands full of fall time goodies. Finally we have some normalcy. No thoughts of Covid;  no quarantining anymore. Our beloved Harvest dinner brought our NMS family back together.