A Trip to Disney!
Spring break never comes fast enough… especially when you know that you are going to DisneyWorld! DisneyWorld (Located in sunny Orlando, Florida)  is one of the most magical places on earth and a tourist hot spot! So, let me tell you about my experience this April.
It's Sunday morning at three o'clock in the morning. My mom, dad, and I are getting ready to leave to head to the airport. If you're wondering where my sister Tessa is, she had to stay behind to ride the bus to Florida.The reason my parents and I were going to Disney was because Tessa is in the Niles McKinley Marching band. Every four years the high school band marches on main street at Disney. We wanted to go and support her so we flew down to Florida to see her. She had to ride the bus though with the 109 other kids who  went to Disney. Talk about a loud bus ride!  It's cold and snowing as we drive to the airport. When we get there, we get our boarding passes and head onto the flight. As we're up in the air, I look out the window and see a gorgeous sunrise. There is something so beautiful about seeing the sunrise from up in the air. After the two hour flight, we made it to Orlando, Florida. As we walked out of the airport, we felt the warmth of Florida coming down on us. When we left Ohio, it was only 33 degrees so it was a huge change when Florida was 80 degrees! I could definitely get used to the hot weather and see palm trees everyday! Sunday, we just hung out at the condo and went swimming. We stayed at the Marriott Harbor Lake Condo, and boy is it nice! They have everything you can think of to make your vacation extra fun. From pirate ships in the pool to miniature golf. It was such a fun condo to stay at. Everyday they had different activities for kids of all ages to participate in. One of my favorite things at the condo was the large water slide in one of the pools. It was always so much fun going down the slide into the coldness of the pool on a hot day.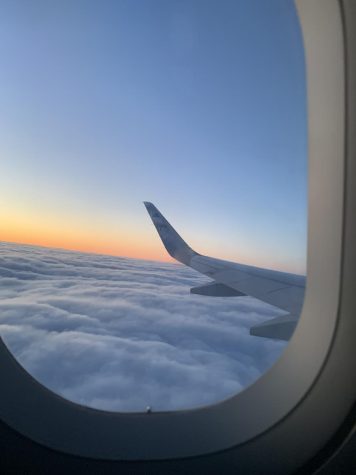 The feeling of waking up in Florida is a feeling I could definitely get used to! On Monday, we drove around Orlando looking around at things to do that you don't get to see everyday in Niles, Ohio. There are so many outlet malls in Orlando alone. So we knew we had to check one out. We went to one of the outlet malls by the condo for a few hours and went shopping. To be honest, the outlet mall got rather boring after a while because it was hot and there were a lot of people there for it being a Monday. You could go to the mall in Niles on a Monday and there would be practically no people. After we left the outlet mall, we drove around a little bit and looked for stores that we wanted to go to that aren't in Niles. The best place we went to on Monday was Crumbl Cookies. Crumbl Cookies is a cookie brand that comes out with four new cookie flavors every week. The Cookies were absolutely amazing!
My parents and I went to Disney Springs on Tuesday. The band was also going to Disney Springs in the afternoon once they arrived in Florida. We left for Disney Springs in the morning so that we could go and shop around before all the band kids showed up. Disney Springs was so much fun. They have so many stores and so many fun things to do. There are tons of different restaurants and stores that you can only find at Disney Springs. One of my favorite stores at Disney Springs was The World of Disney Store.  The World of Disney has absolutely every Disney souvenir that you could think of! From shirts to house decor, they have it all.  We met up with my sister in the evening once the band arrived. Disney Springs also has all the best places to get those Instagram worthy pictures! I definitely got some really good pictures together!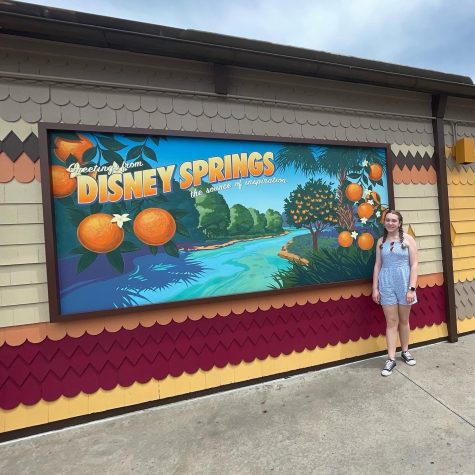 On Wednesday we headed to Hollywood Studios! Hollywood Studios is one of the four Disney Parks at DisneyWorld. Hollywood Studios has  activities for all ages to do. Hollywood Studios was fun to walk around and see all the different sections. My personal favorite section was Toy Story Land. Toy Story land is…you've guessed it, based off of the Toy Story Movies. Toy Story Land makes you feel as though you are one of the toys from the movie. There are huge toys and games all over. The fences aren't just normal fences; they are designed to look like building blocks! Talk about cool engineering. Hollywood Studios doesn't have that many rides so the lines to get onto lines can be very long. We spent most of our time just waiting in lines for things. One of the most popular sections of Hollywood Studios is Star Wars: Galaxy Edge. The architecture of the Star Wars Land was really cool coming from someone who knows nothing about Star Wars. But if you asked my dad, a Star Wars fanatic, he would tell you that the Star Wars section of Hollywood Studios was the best part! One of my favorite rides at Hollywood Studios is "The Twilight Zone Tower of Terror." Even though there was a 90 minute wait, the ride was totally worth it. The ride is themed in an abandoned hotel and the ride that you go in is designed to look and feel like an elevator. The ride brings you up to the top of the building and then it has multiple drops. The first few times it only drops you a few feet, but then it finally drops you 131 feet. All I heard as the ride completely dropped was people SCREAMING!  That might be why people have fears of elevators.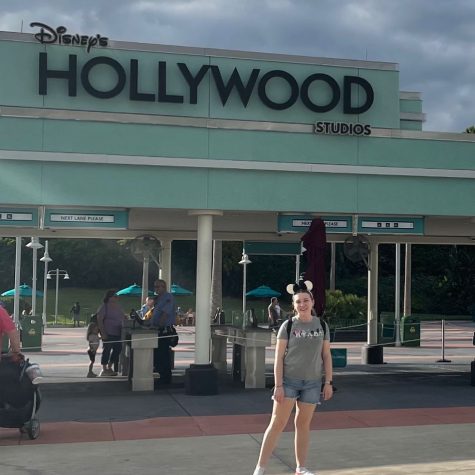 Magic Kingdom was the day we were all looking forward to. The day that the band was marching at Disney. We woke up bright and early on Thursday morning so we could be at the park when it opened. When we got to the entrance to the park, we took the monorail over to the park. It's DisneyWorlds 50th year so the whole park is filled with special 50th year decorations. The castle also got a new look to celebrate the 50th year anniversary. Along with that, the Mickey and Friends characters spiced up their wardrobe with outfits inspired by the 50th year! You can find them in one of the many Disney parades that happen each day rocking their new costumes. Magic Kingdom definitely has a lot more rides for families to enjoy. The Fast Passes were definitely a must have because they helped us not wait in line for two or more hours. There are WAY more rides to ride at Magic Kingdom than Hollywood Studios. I would definitely recommend fast passes because with fast passes, I only waited 5-10 minutes in line compared to hours. Magic Kingdom is split into six sections, Main Street/U.S.A, Adventureland, Frontierland, Liberty Square, Fantasyland, and Tomorrowland. Everything we did at Magic Kingdom was so much fun. We went on almost all the rides at Magic Kingdom and there wasn't one ride that I didn't like! One of my favorite parts of the day was watching the marching band play. They were so good and it was definitely entertaining to watch them! It was definitely a once in a lifetime opportunity for the students in the band and I can't wait for when I will get to march in the parade as a majorette.  BUT the day is not over yet! The band played in the afternoon so after they played, we still had a few hours until my next fast pass. My parents and I walked around Disney for a few hours and rode a few more awesome rides. Magic Kingdom does a firework show every night! Before the firework show, I had a fastpass for Big Thunder Mountain. With the fast pass, it was only a five minute wait. And boy was that ride amazing! So after the ride was done, we headed back to main street to watch the fireworks. Disney does a fabulous job with the firework shows. The fireworks were a good way to end off the night and to end off an amazing vacation!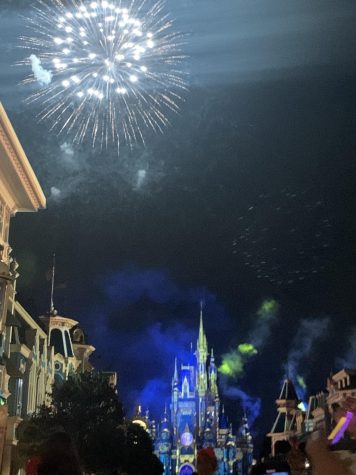 We headed back to Ohio on Friday morning. My vacation to Florida had sadly come to an end. Back to cold, snowy Ohio. Yuck! My Spring Vacation to Florida is definitely a vacation to remember! From seeing the band march on Main Street, to splashing around in the condo pool, It was definitely an amazing trip! Until I see Florida again, I will keep this trip in my heart!