Science Rules!!!
Bill Nye Visits Youngstown
Bill Nye was invited to come to Youngstown on April 28, as part of the Skeggs Lecture Series hosted by Youngstown State University. When Bill energetically entered the stage, he was met with thunderous applause and hoots of admiration. This reaction was repeated many times during the hour-long appearance as Bill discussed issues such as climate change, the advancement of science, encouraging people to think critically about scientific issues, and the importance of space exploration. Nye is the long-time president of the Planetary Society which advocates for the advancement of space exploration to the benefit of people on Earth.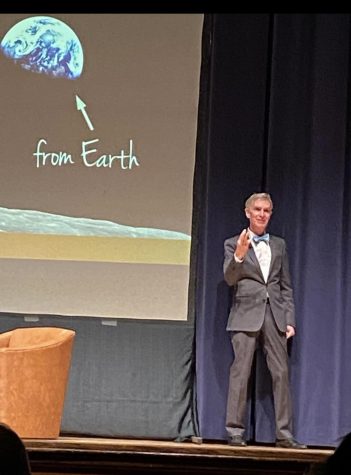 However, Nye is also very passionate about climate change. He is direct when it comes to acknowledging the problems, and is quick to point out that we have the capabilities to solve those problems – IF we take action now. When asked what the individual person can do to affect climate change, he repeated over and over again that the most important thing we can do is vote. "We put people into government," he reminded the audience, so when we vote, we need to make climate change a priority in our decision-making process. Throughout the evening, Bill was as spunky as he ever was on his popular TV show, and he used the word "dude" several times which always brought chuckles from the audience. The final question asked of Bill Nye was, "What would you like your legacy to be?" He responded that if he had any kind of a legacy, he would like it to be said of him that he not only changed the world for the better, but he encouraged other people to work to change the world too.