Let the Feet Do the Talking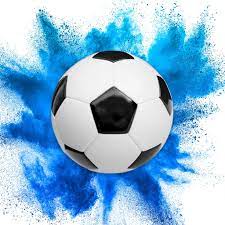 The best feeling in the world is running on a soccer field with the ball rolling in between your feet. Yah! You guessed it; I'm talking about soccer.  Soccer is my favorite sport because it is unique with the way you kick the ball. That my friend, takes real talent. It's not like throwing or hitting a ball like football or volleyball. That I think is rather easy. I love soccer so much because it is a great stress reliever. Come on I KNOW you have some days where you just want to hit or kick something. Well if you have a soccer ball, you can run, and you enjoy a team sport –then soccer is calling your name!  Unfortunately, my soccer team this year only has seven people. I know–where is everyone and why aren't they playing?  My teammates are Andrew Blose, Riley Pyatt, Jonathan PeQueen, Hunter McCarthy, Nick Cicero, and Bryce Jaxson, and myself of course. Our schools Athletic Director Mr. Fritz made this a school sport to get us prepared for high school soccer. For most of our games this season, we would rely on the girls' team to help us out because of our low number of players, but we managed to push through to the end of the season. We didn't have any wins this year, but we didn't let that get us down. We played our hearts out, and in my eyes, we won every one of those games.  I can tell you one thing, our coach, Hannah Ward, was so proud of how hard we've worked and how much better we have gotten over the past few months. She was one heck of a coach! I know, a girl coaching a boys team sounds a little weird. How did I feel about having a girl coach? I felt like she was even better than a boy coach. I say this because she is one of the best I have seen in a while and I think that she can coach High school level soccer. She knows her stuff!
This soccer season started in August and it is already coming to a screaming halt with there being only one game left. I will miss this soccer season because this is where I have learned the most and had the most fun. In high school it will be so much better because we will actually have enough players to form a team. But I am still thankful that I even got to play this year. I am really proud of myself and especially my team. They played really well and never gave up when adversity struck. I am so sad that it is almost over, but I have my sights set for next year already!
So get off the couch and put the video game down and try out for the soccer team! WE NEED YOU!