Olivia Rodrigo
 "Olivia! Olivia!" That is the paparazzi and fans non stop chanting when they see the famous popstar Olivia Rodrigo. This young popstar has been setting record breaking accomplishments at the age of 18. Olivia Rodrigo was born February 20, 2003 in Murrieta, California as a fourth generation Filipina American. She is an only child born with such an ability to sing. But she didn't just get her fame from her singing, her career started on TV. She started on an Old Navy commercial at just a very young age.Olivia then took acting classes leading her into different films. The shows she was most famous for were Bizaardvark and High School Musical: The Musical: The Series. Her first acting job was in 2015 and she played Grace Thomas in An American Girl Doll film. At the age of 12 she was filming Bizaardvark, starring as Paige Olvera and stopped in 2019. She is now acting as Nina Salazar-Roberts in High School Musical: The Musical: The Series. This show first aired in 2019 and was based off the movie High School Musical. While on these shows, she mostly would act but sometimes she would sing. This really catapulted her to become extremely famous. 
Olivia loved acting, but her heart belonged to singing. She first started singing at the age of 6. She participated in a singing competition called B&GC when she was young, making it to the finals every year. She decided she wanted to start a career. Her first professionally produced song was "All I Want." She wrote this song for her show High School Musical: The Musical: The Series. This song meant the world to her. According to her own website, " it was a super cool experience that opened up a lot of doors for me."
This is the SOUR album cover: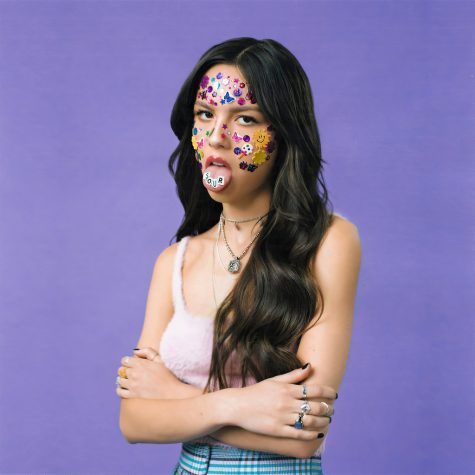 Olivia decided she wanted to publish more. That is when she wrote the song "Driver's License." This song went off the charts and was number one on Spotify and Apple Music for more than seven weeks. There are many rumors about this song causing a lot of drama between her co-star Joshua Bassett also known as her ex-boyfriend and singer. It was also about songwriter and actor Sabrina Carpenter. Joshua was accused of cheating on Olivia with Sabrina. Well, she decided that one song was not enough and she needed to say more. So she announced that her album "Sour" was coming out on May 1, 2021. The world could not wait for this album to drop. When the album got released, she broke the record on Spotify for the biggest opening week for an album. It was mostly streamed by Gen Zs. This album beat many other records as well. Because Olivia was such a great singer she was nominated multiple times for many awards. She won the MTV Video Music Award for Best New Artist, Push Performance of the Year, and Song of the Year. She also won the MYX Music Global Achievement Award, and the iHeartRadio Music Social Star Award. Olivia was so glad she accomplished these many remarkable rewards. "Sour" is now the most streamed album of 2021 with 2.69 billion streams as of early July.  With her talented ability in singing, everyone is so excited to see what she comes up with next!