Poetry Spotlight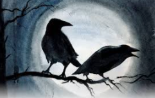 I was sitting in her chair, with all my sadness and despair,
Thinking about my beautiful maiden with golden locks of hair.
I remember her face so sad and still, because she had fallen ill.
My heart feels so empty now, and it'll never be fulfilled.
I miss seeing her super sweet smile and the curve of her face.
Now I'm left all alone with loneliness and empty space.
I feel helpless  in my chamber with no way to cope.
How can I go and heal my pain; I'm losing all hope.
I decided to take a break and attempt to achieve some sleep,
But everything feels broken like a world without it's "cheap."
I try to find some closure looking at the book she most adored.
But I can't help but grieve over my beautiful lost Lenore.