Dig, Set, Ace! How It All Comes Together In Volleyball
On Monday, August 30, 2021, both the seventh and eighth grade teams had an outstanding victory against Girard. It was a tough game, but the teams played hard and never gave up. The seventh grade played three matches against Girard, along with the eighth grade team. It felt so amazing to win in only our second game of the season, and that comes to show that the NMS volleyball teams don't mess around. Mrs. Ciminero and Mrs. Muccio were there that day against Girard to take pictures for the yearbook. The next day Mrs. Ciminero told me, " Caroline, I enjoyed that game so much. It was so exciting to see you not only win but your camaraderie within your teams was a joy to see. I loved every play!" After Mrs. Ciminero told me this, I felt so proud of both the teams and myself. That is one of the best compliments to hear when playing a sport, and that tells me that people really enjoy watching us play volleyball.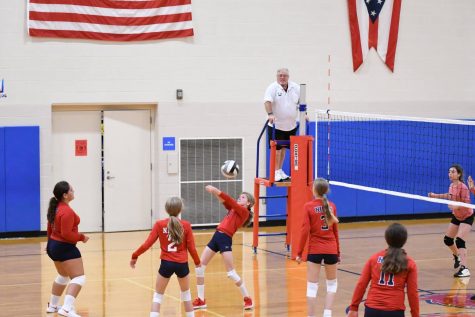 First, I would like to introduce the coach of both the seventh and eighth grade volleyball teams, Ashton Camerot. This is her first year coaching volleyball, but she has played in the past for her highschool New Castle Junior/Senior High. Coach Asthon says, "I decided to become a coach after finishing my bachelor's degree when I could dedicate my time. I wanted to pass down the knowledge of the sport in the same way my coaches had done for me and mentor kids who were looking to take their skills to the next level in high school". Now onto the players. Let me introduce the 2021 players for both the seventh and eighth grade teams. For the seventh grade team, we have Addison Campbell, Karli Cox, Ra'Niya Hall, Airiana Jones, Raegan Kelly, Sophia Marotti and Addison Marton. The eighth grade volleyball team includes: Caroline Cormell, Brooke Court, Natalie Derr, Lydiah Taylor, Molly Morris, Torie Nick, and Caja Wolf . As of September 15th, the 7th grade team's game record is 7-2, winning against Girard and Struthers, while the 8th grade team's record is 7-1, with a win against Girard. I must say this winning record is really motivating us.
Both teams have been working on getting three touches before the ball goes back over the net. If you don't know what that is, it's a bump or dig, set, and then spike! Coach Ashton likes to tell us, "Use good judgement and make better decisions," and I think that has helped both teams when making a mistake. The seventh grade team has been working very hard on learning the technique of overhand serves for this season, and they are improving greatly. Each member of the eighth grade team has mastered, or nearly mastered, the overhand serve, and that shows improvement from only doing underhand serves last season. Some of the players on the eighth grade team are even getting aces, which are powerful serves that go over the net, and then hit the ground without the opposing team touching it. The setter for the seventh grade team is Karli Cox, and for the eighth grade team is Natalie Derr. Without the setters, we wouldn't know what to do for hits (spikes) or even tips during a match! All of the setters on both teams are very good at setting the ball to other teammates while in a play so they can hit, tip, or even pass the ball if necessary.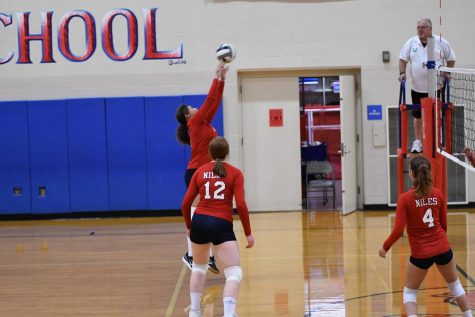 A shoutout should be given to every single girl on the seventh grade volleyball team for their hard work and dedication to their first year playing volleyball. These girls started out the season knowing almost nothing about volleyball, and now, right in the middle of the season, they have learned and achieved so much already. For both teams, our main goal for this season is not to win every game, but to be a real team and cheer each other on and to respect each other. We are working on good communication on the court by calling for the ball during plays, and off the court by encouraging cheering to lift each other up. "One thing I must say about our growing program is that our girls are as dedicated as the coaches are behind the scenes. We want to see more success from Niles volleyball and are working hard to achieve that together!", says Coach Asthon. Coach Ashton has taught us so many aspects of the game, like the basics of volleyball, and how to treat everyone on the team, including her, with kindness and respect. In order to play volleyball, or any sport in general, you have to be a good sportsman to everyone–including the opposing team. Just because we win a game, doesn't mean we can't do better. On the other hand, just because we lose a game, doesn't mean we can't bounce back and win the next game. The volleyball teams here at Niles Middle School are tough and play confidently and if you don't think that's true, why don't you come see for yourself? I can guarantee you will enjoy every minute of it!