Maturity Well Beyond Her Years
"The young girl was only in seventh grade and she didn't know the rules. I wasn't going to let anyone make her cry." That was Caja Wolf speaking about what made her do such an extraordinary act of kindness. At the eight grade girls volleyball home game against Girard, there was a player from the other team line judging. According to Caja, she was young and didn't know the ins and outs of volleyball rules. Spectators and parents were getting mad and yelling at the girl about the calls she was making. Even our eighth grade girls were getting upset. It just seemed like the calls weren't favoring us.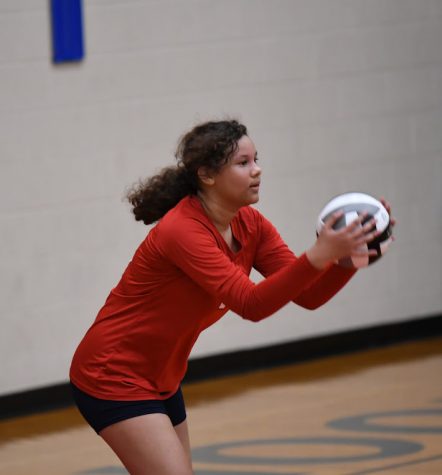 Caja Wolf (#28) on the Niles volleyball team went into her mom mode. In case you don't know, Caja is like a mom to the volleyball team and is always looking out for her teammates. After the match, she apologized to the young girl and her coach on behalf of the team and the negative behavior. Caja explains that no one should be treated like that in front of others. This young girl will eventually learn how to be a great line judge. The Girard head coach had emailed Mr. Reigle and let him know about Caja and her great sportsmanship. We here at Niles are lucky to have Caja in our sports program. Standing up for others isn't always easy, but Caja sure makes it look like it is! Her maturity is something to look up to and is something we should all try to have.