Eat, Sleep, Run, Repeat!
There's nothing like the wind in my hair; the power I feel through my legs, and the cold air in my lungs. I'm talking about cross country. Cross Country is a long distance running sport. The average for middle school cross country meets is two miles. Cross country is about more than just running; it's about being a team player and supporting your team no matter what happens. Our team consists of Veronica Marvin, Sierra Ryan, and myself, Alaina Haroulakis. I think that our team was small because cross country is over the summer and a lot of people would rather sleep in over the summer instead of getting up early to run. John O'Neill is the cross country and track and field coach. Coach O'Neill has been running for nine years and is a 2018 graduate. Coach O'Neill said that he became a cross country coach because he likes   running.
We started training for the 2021 cross country season at the beginning of summer. While most people were sleeping over the summer, we were running. Practices started in the beginning of June and would start at 7:30 am. It's easier to get up early and run because it's not as hot in the morning and it was a good start to our day. Even though our team consisted of three girls, and our coach, we were all super supportive of each other. We would cheer each other on, no matter how good or bad we were doing!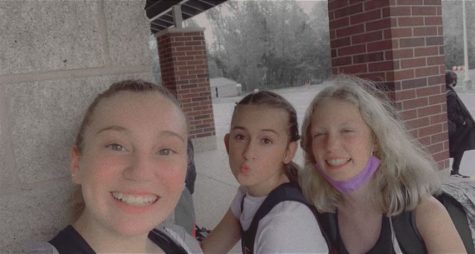 Although many people think cross country is a team sport, it's also a personal sport. You have to race against your own time and try to get a little bit faster every time you run. It's enjoyable running with/against someone because they help pace you and motivate you to not give up.Running two miles isn't easy. But with all of the training and practice, it became a lot easier. Cross country is different from running track because you run in all different types of terrains like grass, dirt, going uphill, etc. With any kind of sport, you need a lot of endurance to keep going and not give up. It can be very hard to keep going when you just want to stop and walk but when you find the right motivation, you can do anything! One of the most challenging things about this cross country season was people joining the team and then quitting. It was hard to practice with people and then they quit the team. Once school started, we had a very consistent team with the same people.
"My favorite part of cross country was the camaraderie. We are a team that is supportive and understanding. I am so glad to be part of an outstanding team with my wonderful teammates." says Sierra Ryan. This is Sierra's first year doing cross country. She said she joined cross country to try and get her mile time faster for track season. My personal favorite part about cross country was the bus rides to the meet. We would rock out to Taylor Swift until our throat was sore from singing. The middle school and the high school cross country team would ride the bus together and it was always fun to talk to them and we always had a good time.