An Opportunity at The Happiest Place on Earth
Have you wondered what it would be like to spend every day at the most magical place on earth? The Disney College Program is a leadership program run by Disney for college students all around the world. It is a fun way for you to get hands-on experience working and communicating with customers. You learn how to be independent all while still getting the magical experience.
I am lucky enough to have someone who was in the program live right next door to me! Her name is Hannah Zucco ( A former Niles graduate) and she is attending the University of Pittsburgh in Pennsylvania for chemical engineering. Hannah just finished her college program and was willing to answer some questions about the program.
Where did you work and how long was your program?
I worked in quick service food in Magic Kingdom. My specific locations were Casey's Corner and the TomorrowLand Terrace Dessert Party. My program started in July 2021 and ended April 2022.
What was your living situation like for the college program?
Disney had a brand new apartment complex built specifically for college program students. Rent was automatically taken out of each weekly check. I lived with three other girls and shared a room with one of them. We were randomly matched but we all got along very well. I did not bring a car, but my roommate had one and offered to drive me most of the time. Disney also had transportation running between the apartment, grocery stores, and the parks.
What are some of the real life skills you learned while working at Disney?
Working with Disney taught me independence; some things that I regularly did were budgeting my money, going grocery shopping, and time management. I learned leadership skills and even became a trainer. Disney programs provide opportunities to meet with executives and work on building business communication skills.
What are some of the perks of working for Disney?
We got into all the parks and water parks for free! Disney also gave us discounts on hotels up to half off, we got discounts on merchandise, free tickets for our families, and most importantly, we got to preview new rides before they opened to the public. I got to preview the new Ratatouille ride and the new Guardians of the Galaxy ride a month before everyone else could.
Finally, how was your experience in the program?
As a whole, my experience was magical. I made so many wonderful friendships that I will value for the rest of my life. I got to watch parades every day and fireworks every night. My job was not easy—I typically worked 50 hours a week—but it was fulfilling to make so many people's vacations spectacular. I learned a lot of real life skills that I know I will be able to use for the rest of my life. I would recommend the college program to students who love Disney and want to work on their interpersonal communication skills.
What does a job at Disney have to do with Chemical Engineering?
My specific role with Disney did not directly pertain to my major. I learned lots of customer service, leadership, time management, and organizational skills, but nothing specifically tied into my major. Disney offers professional internships for a wide variety of academic studies—most notably for me are their environmental programs and civil engineering park internships—that students are more likely to get accepted into if they have participated in the college program. The college program is typically used as a foot in the door with the company for future internships and careers.
Can anyone who goes to college basically do this internship or are they looking for certain majors? Do all colleges have this opportunity?
Anyone can do the college program so long as they get approval from their academic counselors. Depending on certain majors, students may be able to earn college credits from doing their college program: it all depends on the specific university. Some of the roles students can receive during their program pertain more to certain majors: education goes well with a childrens' activities role, industrial engineering would pair well with a sales position, hospitality majors would do well in a concierge role, and life.
Besides perks, does this internship pay well?
It all depends. At my location, I earned a premium of $14.75 an hour, $15.75 when training because I was located at the busiest restaurant in the Magic Kingdom. I worked on average between 40 and 50 hours and received overtime pay for anything over 40 hours or eight hour long shifts. After rent was taken out, I typically went home with a paycheck of $300 a week, which was more than reasonable for me to live off of and to have extra money to take home at the end of my program.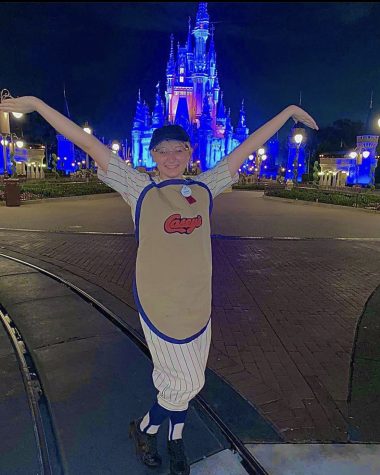 Would you like to live in Florida?
Definitely not. It was extremely hot and humid during the summer and every time it rained there were tons of millipedes that would make their way into my apartment. I became very familiar with cockroaches (not from my work location, but in my apartment during severe storms) and running to get out of the rain. I loved the sunshine and mild winters, but I would prefer to live somewhere else in the future.
Can you summarize "A day in the life of Hannah" at Disney?
Since I worked at two different locations, the days were pretty different, but I can summarize days for each location!
My shifts at Casey's Corner typically ran from 12:30 pm to 10:30 pm. I would wake up around 10 am, make myself tea to wake up a little, and have an early lunch of pasta. I would leave my apartment around 11:20 to catch the bus to work, and arrive at about 12:10. I walked in the underground tunnel system beneath the castle to Main Street, then would take the stairs up to the Emporium Store, then walk into Casey's kitchen. I clocked in at 12:25 and would pick up an assignment. Most of the roles at Casey's involved being a greeter and helping people find their way around the park, filling guests' orders and interacting with them, or working in the kitchen to put each order together. I loved being in the kitchen! It was satisfying to see the kitchen cast get into the flow of putting out over seventy orders in less than seven minutes. After a few hours of work, I'd typically get my hour-long break at about 4 pm. I would go back to the underground tunnels and to the cast Subway for lunch. Then it was time to clock back in and work until about 7, when I would get an additional fifteen minute break, then clocking out at 10:18 pm. Disney gives the Magic Kingdom cast 12 minutes to walk from their work location to their cars since the underground tunnel system is long and complex. I would take the bus home and typically get back by 11:30, then make dinner with my roommate, going to sleep at around 1 a.m.
My dessert party shifts were typically training shifts that ran from 4 pm to 11 pm. I would often wake up around 10:30 am these days to do my laundry and start the day off with breakfast. If I was able to get into the parks and had sufficient laundry done, I would go with friends at about 11 am and sneak backstage right before work. If I could not get into Magic Kingdom as a guest, I would do my laundry, make lunch, and get on the bus at 3:05. I would meet my training group at the front of the underground tunnels at 3:55 and show them the way to get to Tomorrow-Land Terrace: our work location. I would start the shift by explaining safety equipment and food safety guidelines then we would get to work plating desserts for the dessert party. At around 5 p.m my training group would get to try one of each dessert, then we would take our 45 minute break. After our break, we would attend a pre-shift meeting with our leaders and coordinators where we discussed any special allergy requests or large parties for the night. Then we would set up our buffet and get ready for the party, which started at 7 pm. I typically taught my trainees how to keep the buffet stocked and how to assist with the process of bussing tables and restocking the silverware for the night. It sounds straightforward but is actually challenging and is the backbone of the dessert party! The party would go on until after the fireworks at about 9:30. We would go over shutdown procedures and then do a review session. I liked to find fun, interactive ways to review and even made a Kahoot for my trainees. We would review and go over anything they needed to work on until 10:48 p.m., then clock out and go home. After dessert party shifts, I liked to go out to eat with my coworkers and would typically get home at around midnight to go to bed. These shifts were tiring but I was so proud to have trained a majority of the dessert party staff and to see them grow!
The Disney College Program is a unique experience for students that offers a balance between magical moments and opportunities for genuine growth in real-world skills. Overall, the program focuses on developing independence and skills in customer service, both of which are applicable in students' lives beyond the program.